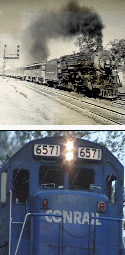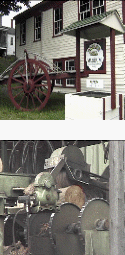 This page has been visited
times.

Historical Production

Produced for the Chester Railroad Museum,
Chester, Massachusetts.

The life of a Chester, Massachusetts,
resident relaying her experiences 
growing up and living during the hey-
day of railroading in Chester. A 
delightful story of steam trains,
engineers, diesels, railroad workers,
train wrecks, and life in general during
the 1900's.  To be shown during 
museum events.



Historical Production

Produced for The Charles A.
Bisbee, Sr., Agricultural and
Industrial Museum,
Chesterfield, Massachusetts

A short narrated video on the history
of logging and sawmill operations
in Chesterfield, Massachusetts,
from 1900's to the present day.
Covering the days of axes and two-
man saws, horse drawn skidders,
to modern diesel skidders and
computer operated log sawing.

The Museum is open seasonally,
Spring through Fall.  It includes
artifacts from cabinet making, grain
milling, and other activities that 
occurred during its years of
operations.  The Museum is in the
original building.  To be shown
during museum events.




BERKSHIRE HILLS PRODUCTIONS
1 (800) 287 4246





OUR RELATED PAGES: