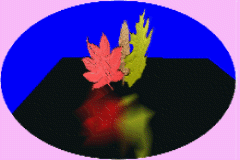 ---
ABOUT OUR LOGO

The dark blue background represents an eternal uni-
verse.  The three symbols, maple leaf, pine cone, 
and oak leaf, represent the idea of body, mind and 
spirit.  The pine cone providing regeneration in life, 
the oak representing solidity and strength, and the 
maple a graceful beauty while offering protection.  
The reflection upon the base or foundation repre-
sents life as a reflection of more solidly based
principles.
 

---
ABOUT US

We are Ed and Helen.  We are in business to be of
service to you.  We will work closely with you in 
order to create the best possible production.

All video taping is done with industrial grade equip-
ment. All tapes are supplied with hard case and title 
covers.

Our usual service area is greater New England and 
Northeast New York State.  Other areas can be 
considered.  Travel and accommodation expenses 
may be applied.

Ed & Helen Pelletier
Berkshire Hills Productions
1-(800) 287 4246


---
Berkshire Hills Productions
berkhillsprod@msn.com
P.O. Box 421
Worthington, MA 01098-0421
United States

This page has been visited
times.

---